Trident Wave Separator
The efficient choice for sludge thickening
The Trident Wave Separator is a sludge thickening machine with an efficiency that is second to none. The Wave Separator's innovative working principle ensures effective separation in many sludge thickening applications while requiring a very low Opex. Slow moving concentric discs gently move the material through the separation surface, achieving high capacities and excellent capture rates. The Wave Separator can be operated fully automated 24/7 or process sludge in batches. The Wave Separator technology is scalable to suite multiple applications and varying volumes of material.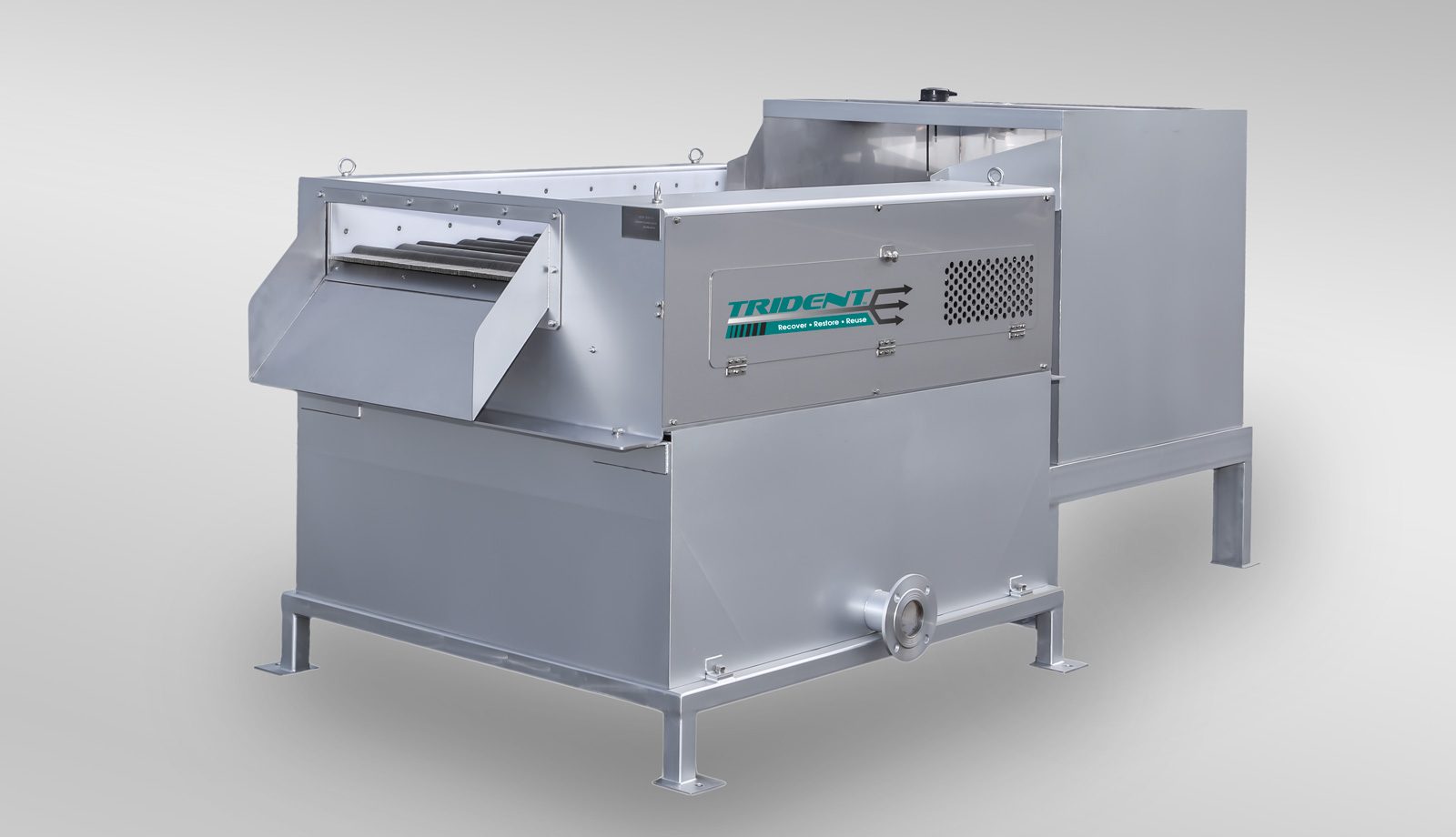 Image: Reliable high capacity thickener with compact foot print and low cost for operation and maintenance. Available with floc tank and mixer.
Image: Slow moving oval discs, mounted on columns, convey the material over the separation screen allowing liquid to escape through the wedge wire construction. Operators typically target a 2-7% sludge concentration.
Applications
The Trident Wave Separator is successfully used in a wide range of applications that focus on sludge treatment of organic or inorganic materials. Some of the applications include:
Food wastes in food processing
Paint and coatings effluent
Tanneries
Metal processing industry
Fishery wastes treatment
Algae harvesting
Primary filtration for wastes coming from grease traps
Features and benefits
Trident's Wave Separator is a very affordable technology both from a capital cost and an operational perspective. The system can be operated fully automated 24/7 with minimal operator attendance. Its self-cleaning design eliminates the need for a spray bar or frequent backwash procedures. The equipment is powered by a low-horsepower motor ensuring low operational expenses. The Wave Separator also helps reduce the downstream treatment capacity of sludge dewatering equipment such as the MD Press.
Low speed, low energy operation reduces operational costs
Continuously rotating discs perform self-cleaning and eliminate the need for wash water
Consistent throughput of material for reliable and continuous operation
Variable speed drives allow easy adjustments of sludge concentration
Very low maintenance requirements minimizes Opex and down time